We are excited to expand our Entertainment Division and welcome actress Marija Abney to the Rebelle Agency client portfolio.
Marija Abney will introduce herself to the world next Friday as one of the Dora Milaje warriors in the new Black Panther movie, but the road to Wakanda has already been filled with reputable roles and opportunities thus far. Get to know Marija a little bit more below and find out why you need to keep an eye out for the bold talent.
South-Carolina Born, New York Educated
Marija Abney was born in South Carolina but moved to New York City at the young age of 16 years old. In the streets of New York she found her purpose in performance art, receiving her BFA in Dance from The Ailey School/Fordham University and her MA in Performance Studies from the infamous Tisch School of the Arts. Acting training programs like the William Esper Studio gave her the technical skills to build her career, starting in theater and transitioning to TV and Film.
From The Lion King to Black Nativity to Black Panther
Marija's career started as one of The Cheetahs in The Lion King at Mandalay Bay Theater in Vegas. This experience and her extensive training gave her the foundation to book opportunities in Luke Cage, The Tick (TV), Broadway play "After Midnight", Black Nativity (Film) and most recently Black Panther and Avengers: Infinity War.
Balancing Strength and Vulnerability
Marija's presence exudes power and boldness as a consciously Black and female force of nature in the world. Her strength is beautified with her love for old-school music, acting like a big kid with loved ones, keeping her pescatarian diet intact and politely declining any chocolate or coffee offers. (She really doesn't like chocolate, we were just as shocked!). Her personality is multi-layered and allows her to authentically become different characters on stage and on screen. We are excited to see how she shakes up the industry and brings a little balance of strength and vulnerability to her roles.
gone viral
Marija recently created some online buzz after stepping on the purple carpet at the LA Premiere of Black Panther last week. See below for a few press placements that see her as we do - what's next!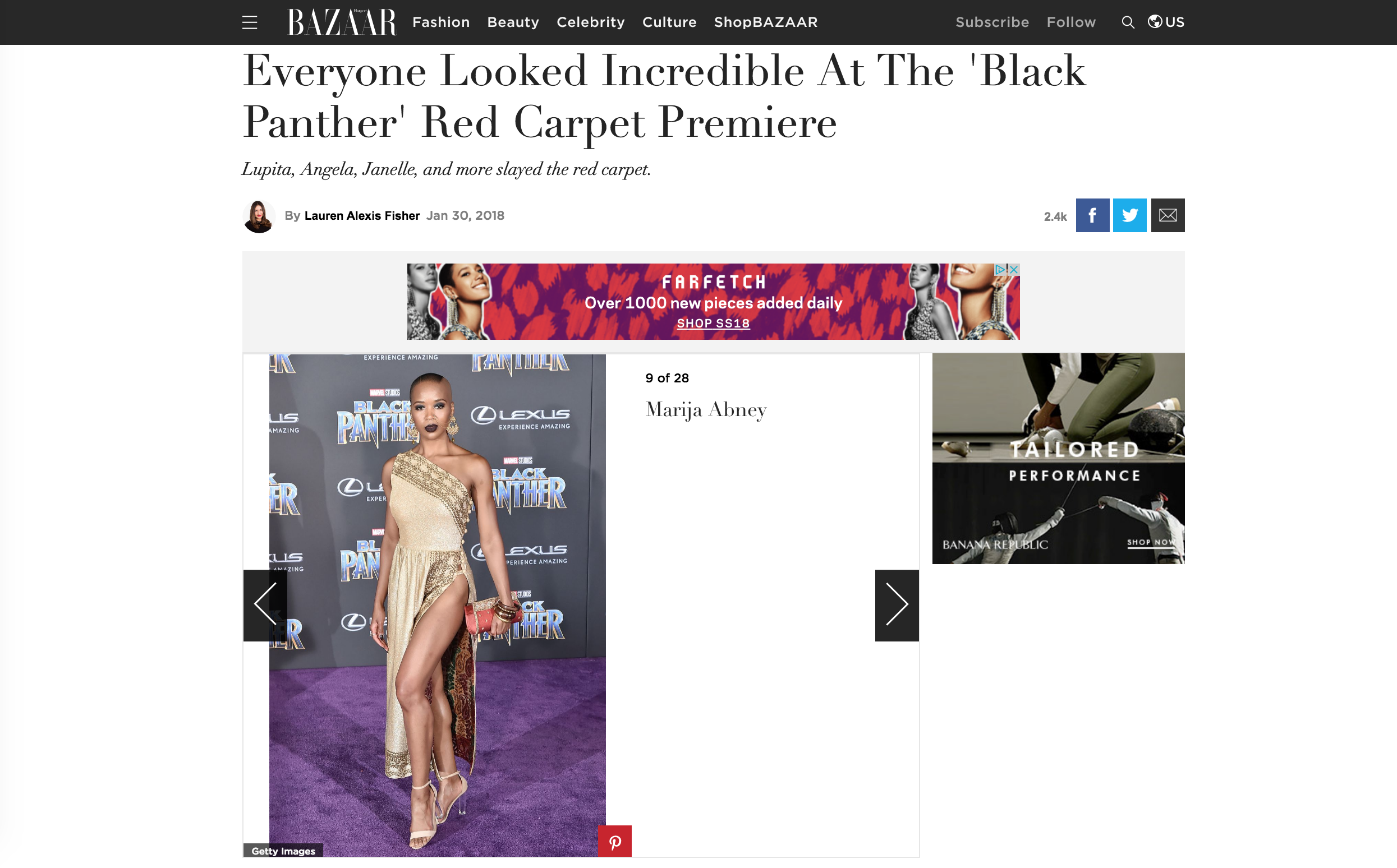 For Media Inquiries:
Tanisha Colon-Bibb
tanisha@therebelleagency
646.653.0848