My experience with talent management did not begin with owning a business and hiring interns and assistants for Rebelle Agency. It started in high school when I had to choose new dancers for the hip-hop dance team I co-founded, then again when I had to choose the next President of the Black Public Relations Student Society upon my graduation and yet again hiring teachers and classroom assistants as a Program Manager in Washington, DC. Talent management, people processes, hiring and human resources are not just mundane professional tasks; but should be embedded in our day-to-day interactions. As a new business owner, human resources and talent management quickly became a top priority. Talent management is necessary for business growth and my entrepreneurship journey forced me to examine my concepts of talent, quality and potential in a new light.
The entrepreneurial journey has been educational to say the least (a topic for an entirely different article) but what is consistent for a majority of founders is that you alone are responsible for occupying ALL roles until you have the financial means to expand. That means, I had to learn and develop skills as a Human Resources manager in order to acquire talent and make sure they were equipped for success. Sounds easy right? *Spoiler alert*, it wasn't for me. I learned very quickly that I was not the best at choosing talent nor was I great at the on-boarding process nor management procedures. I needed someone who knew what they were doing and as a result of networking, found my friend and HR professional Zakiya Nashid. Zakiya helped me in a lot of ways, not by taking over the entire process, but allowing me to identify talent goals for our company and the means by which we would achieve those goals.
That relationship led to our first ever structured Summer Internship Program in 2016 which was focused on growing our interns as not only professionals, but people. Within the context of that program we implemented Lunch & Learn meetings, which allowed me to introduce our interns to a variety of the friends in my network that worked at larger agencies and companies. As a current boutique business, I was aware that our interns may not have felt that they were learning and growing in the way they could have at a larger company. For the second half of the 10-week summer internship program interns were able to sit down and have lunch with representatives at Twitter, Roc Nation, Edelman, REVOLT, Cosmopolitan Music Choice, NBC Universal, FOX News and more to learn about their professional journeys and gain one-on-one experiences.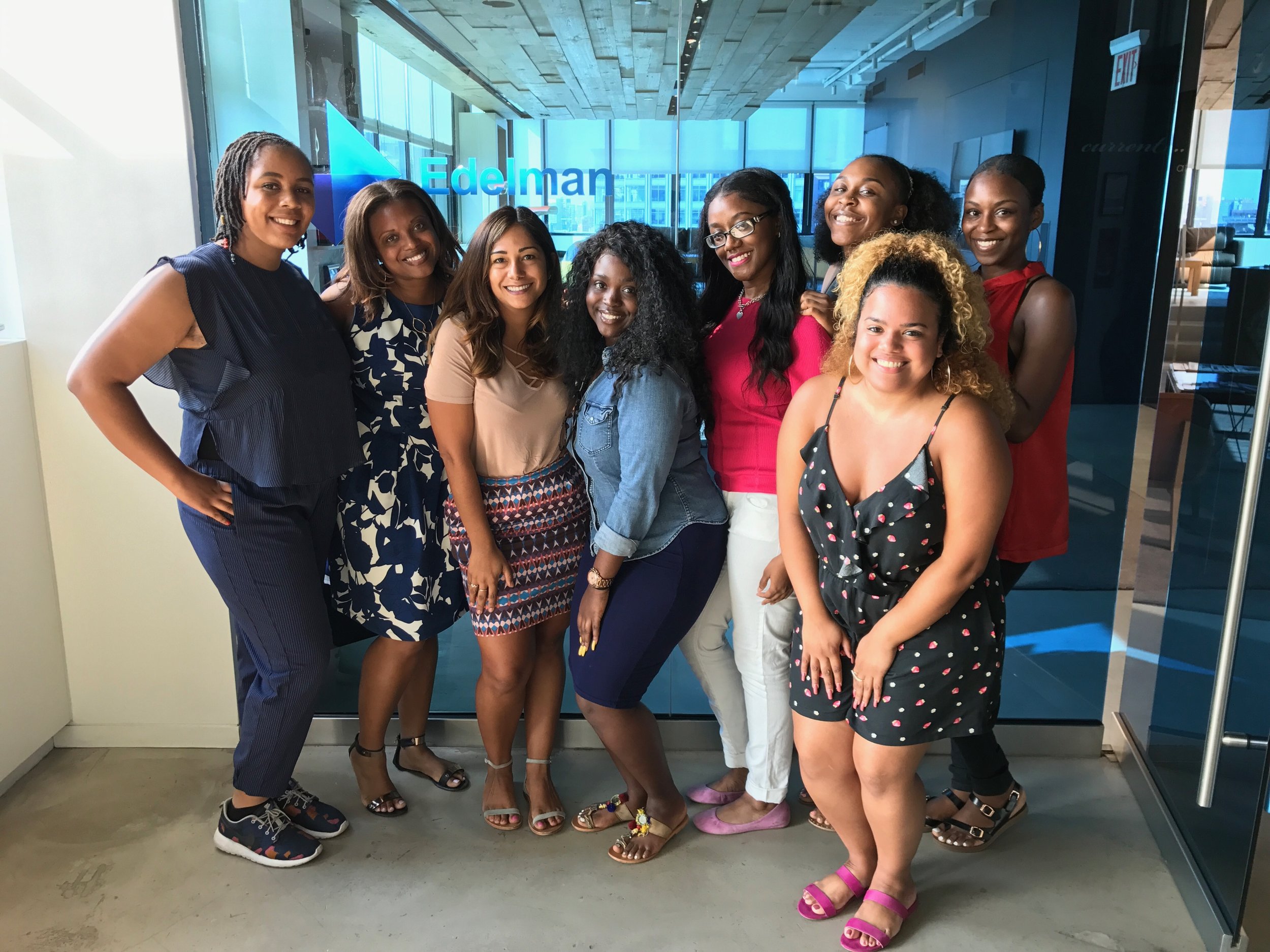 The program was great in its first and second years but there was one very important factor - the amount of time and energy it took to find good talent. It was like gambling. Candidates would look good on paper but then interview terribly or send emails with egregious grammatical errors or if they were accepted to join our internship program, were not consistent in the quality of their work or attitudes. I started to question - how prepared are talent of color to thrive? That question developed into how do we empower talent of color to not only be invaluable interns but build their confidence and skills to be invaluable leaders, managers, team members and entrepreneurs.
You know when you start thinking about something and then the universe makes it show up everywhere? That's what happened when I started to think about talent of color and how I could make an impact. I began to receive text messages from friends who needed internships for their cousins, younger siblings, nieces and nephews which made me think more about access for talent of color. Then my lawyer and financial director decided that we should start to pay interns instead of following archaic industry protocol which made me think more about opportunity for talent of color. Unpaid internships are not viable for most students of color and therefore they have to take summer jobs or embark on an extremely competitive process for coveted paid internships within their industries.
All of these thoughts were rooted in the fact that I wanted to identify better talent for our company. Although it requires more work, a way to find better talent is to cultivate it. There are many organizations and groups that focus on properly positioning talent of color but that doesn't mean there isn't room for more. My perspective as a business owner allows me to look at talent differently than recruiters or educators. I am not only interested in good talent of color but equally interested in businesses providing good internships. To me, they are two sides of the same coin, working to drive this initiative within the industry.
This week, we co-hosted an event with Buzzfeed as an initial engagement with students and interns of color on their paths to professional careers, whether that included entrepreneurial ventures or working within corporate environments. Buzzfeed tasked me with coming up with a name for the event and the term "More Than Grunt Work" really stuck with me. I had five internships before I started my career and luckily never felt like I was doing menial labor with no purpose but unfortunately for a lot of my friends, their time was spent only (key word) copying papers or fetching coffee. It seemed to me that there was no purpose in that for neither the business nor the intern. I wanted interns to know that their internships should be more than grunt work (that means still fetch coffee but also make sure you are speaking up at staff meetings and securing tasks from multiple superiors) and for businesses to use interns for their creativity and more. So the term stuck and we had 35 interns of color show up for a panel discussion with Skylar Kearney (Social Media, Buzzfeed), Aaron Burwell (Senior Program Manager, SEO) and Chloe Williams (PR Strategist) moderated by me. In addition to shiny (and free) new headshots, the interns were engaged in networking at the Buzzfeed office that focused on empowerment as well as tips and tricks for how to be the most invaluable interns (and people!). The feedback was phenomenal and showed me that the conversations and connections were necessary.
I don't know what the concept #morethangruntwork or the desire to empower talent of color will turn into - of course I have many ideas. Until then, I want talent to know that WE ARE LISTENING. We see the need for your growth and we want to help you go above and beyond your goals. So stay tuned...
____________________________
Tanisha Colon-Bibb is the Managing Partner at full service communications firm Rebelle Agency in New York City. You can connect with her on Instagram and Twitter. To find out more info on the next #morethangruntwork event sign up for the Rebelle Agency newsletter.
This article was originally written on Linkedin.com